Schinkelland, 2017
1-channel video, sound, colour, 
5:05 min.

Performers: Vincent Brière, María Constanza Carvajal, Ahram Chae, Kathryn Gohmert, Maedeh Nassouri, Iskin Yağmur Ruzgar, Daniel Theiler

Kronprinzenpalais, Berlin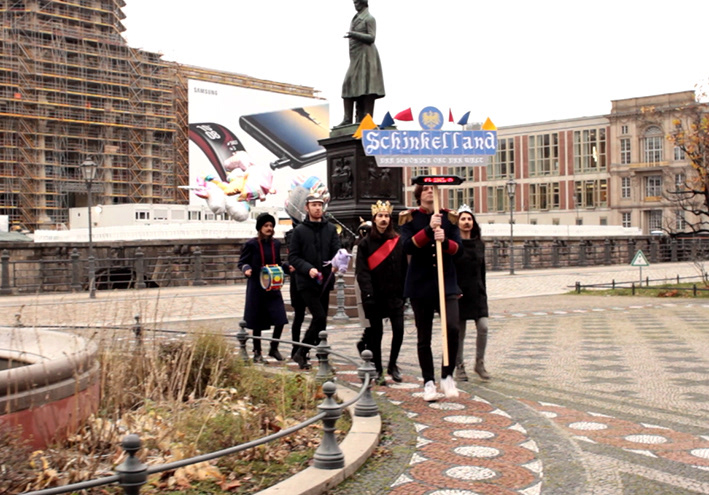 Die Arbeit verwandelt die Berliner Mitte in den fiktiven Themenpark Schinkelland. Als Beleg für seine Existenz wird die Schinkelparade veranstaltet, die vom rekonstruierten Kronprinzenpalais bis zur im Bau befindlichen Rekonstruktion des Berliner Schlosses marschiert und dabei bereits rekonstruierte Plätze, wie den Schinkel-Platz und geplante Rekonstruktionen, wie die Bauakademie passiert. Rekonstruktionen werden heute als normal und als echt wahrgenommen. Die Rekonstruktionen der Berliner Mitte sind ein Zeichen der deutschen Besessenheit mit Schinkel. Die Authentizität der Rekonstruktionen wird heute häufig nicht in Frage gestellt. Rekonstruktionen verdecken die Tatsache, dass die ursprünglichen Gebäude zerstört wurden. Darüber hinaus sind Rekonstruktionen, ähnlich wie in einem Themenpark, meist vereinfachte Nachbildungen des Originals.
The work transforms the center of Berlin into the fictitious theme park Schinkelland. As evidence of its existence, the Schinkel Parade marches from the reconstructed Kronprinzenpalais to the reconstruction of the Berlin Palace and reconstructed squares, such as the Schinkel Square and planned reconstructions, such as the Bauakademie. Reconstructions are today perceived as normal and as real. The reconstructions of Berlin Mitte are a sign of the German obsession with Schinkel. The authenticity of the reconstructions is often not questioned today. Reconstructions obscure the fact that the original buildings were destroyed. In addition, reconstructions, much like in a theme park, are mostly simplified replicas of the original.
DOC: Smina Bluth

Camera assistent: Justus Lemm