Home Alone - Görlitz, 2017
Installation. Display dummies, model railway, furniture. 
Former Adolph Totschek Warehouse, Steinstrasse 2-4, Görlitz.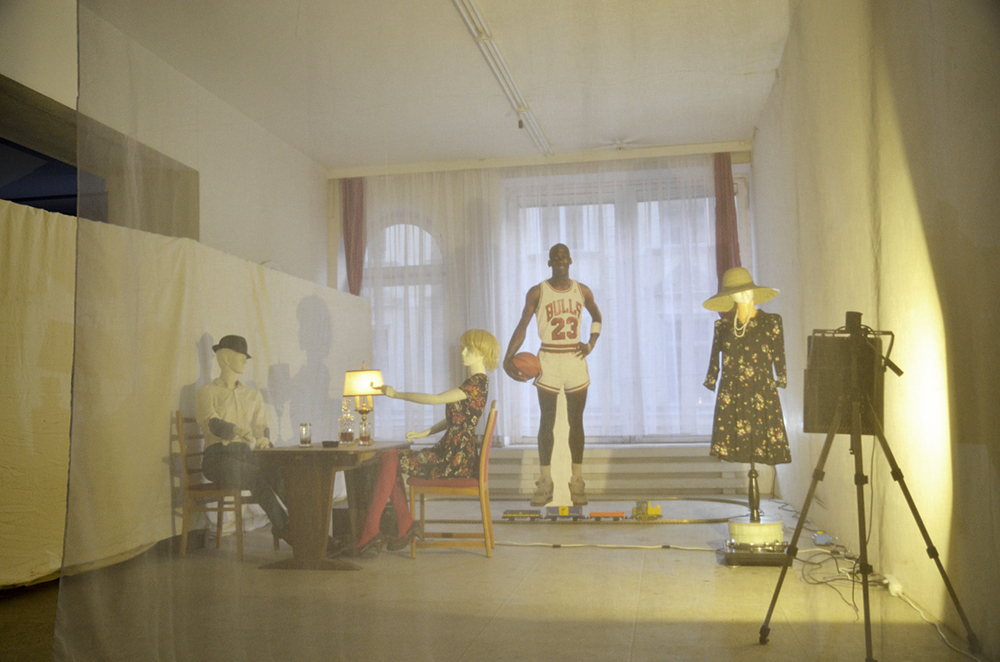 Die Installation Kevin allein in Görlitz wurde auf dem Kunstfestival Zukunftsvisionen 2017 in Görlitz gezeigt. Zum diesjährigen Thema illusionen.verfallenzeigt die Arbeit die Chancen und potentiale leerstehender Gebäude für Städte auf. Ähnlich wie der kleine Kevin das Haus seiner Eltern im Film Home Alone versucht gegen Einbrecher zu verteidigen, versucht die Arbeit das ehemalige jüdische Kaufhaus Adolph Totschek mit der Illusion einer wilden Fake Party vor dem Leerstand und dem damit drohenden langsamen Verfall zu bewahren. Die Besuchern des Festivals sollten dazu anregt werden selbst Ideen und ein eigenes Engagement für leerstehende Gebäude zu entwickeln.
The installation Kevin alone in Görlitz was shown at the art festival Zukunftsvisionen 2017 in Görlitz. For this year's theme illusionen.verfallen the work shows the opportunities and potentials of vacant buildings for cities. Just as Kevin tries to defend his parents' house
from burglars 
in the film Home Alone, the work tries to save the former Jewish department store Adolph Totschek from the vacancy and the impending slow decline with the illusion of a wild fake party. Visitors to the festival were encouraged to develop their own ideas and commitment to vacant buildings.