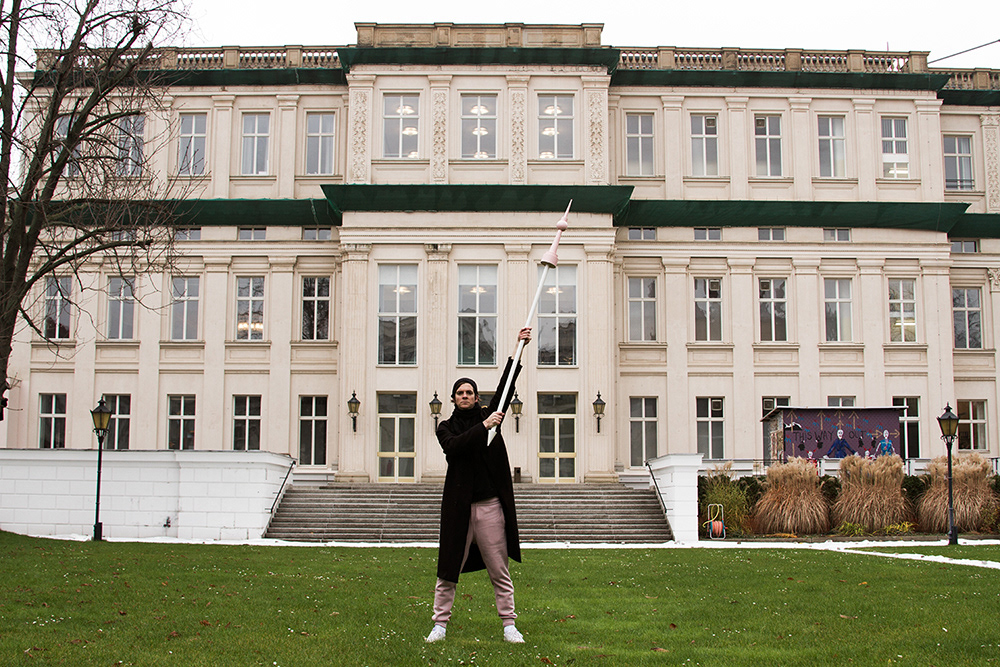 Der Berliner Fernsehturm war ein Symbol für die DDR und die Überlegenheit des Sozialismus. Er repräsentierte die Idee einer erfolgreichen sozialistischen Zukunft. Nach der Wiedervereinigung wandelte sich die Bedeutung des Fernsehturms von einem Symbol der DDR in ein internationales Symbol des wiedervereinigten Berlins. Aufgrund seines ikonischen Designs wird er zunehmend als Marke verwendet und international mit Berlin und Deutschland identifiziert. Bauwerke wie der Berliner Fernsehturm symbolisieren die Kraft und Wirkung, die Architektur haben kann. Architekturvisionen reflektieren gesellschaftliche Visionen. Veränderung ist ein immanentes und wichtiges Merkmal der Stadt. 
Die Arbeit besteht aus einem hoch skalierten originalen Happenspieß aus DDR-Zeiten. Die Spitzen des Happenspießes zeigen in zwei Richtungen und bilden gegenläufige Pole. Der Fernsehturm zeigt in Richtung Zukunft, der andere Pol symbolisiert die Vergangenheit. Das Kronprinzenpalais und der Fernsehturm wurden zeitgleich gebaut, sie stellen ein Nebeneinander von Vision und verpasster Chance dar.
Die Arbeit wurde auf dem 3. Berliner Herbstsalon vom Maxim Gorki Theater gezeigt.
The Kronprinzenpalais and the TV Tower were completed around the same time. The Berlin television tower was an important symbol for the GDR to show the superiority of socialism. It represented the idea of a successful socialist future. After reunification, the importance of the TV tower changed from a symbol of the GDR to an international symbol of a reunified Berlin. Due to its iconic design, it is increasingly used as a brand and is identified internationally with Berlin and Germany. Buildings like the Berlin Television Tower symbolise the power and impact that architecture can have. Architectural visions reflect social visions and change is an immanent and important characteristic of cities. 
The work consists of a highly scaled original bite to eat from GDR times. The tips of the snack spit point in two directions and form opposing poles. The television tower points towards the future, the other pole symbolises the past. The Kronprinzenpalais and the television tower were built at the same time, they represent a juxtaposition of vision and missed opportunity.
The work was part of the 3. Berliner Herbstsalon, Maxim Gorki Theatre.