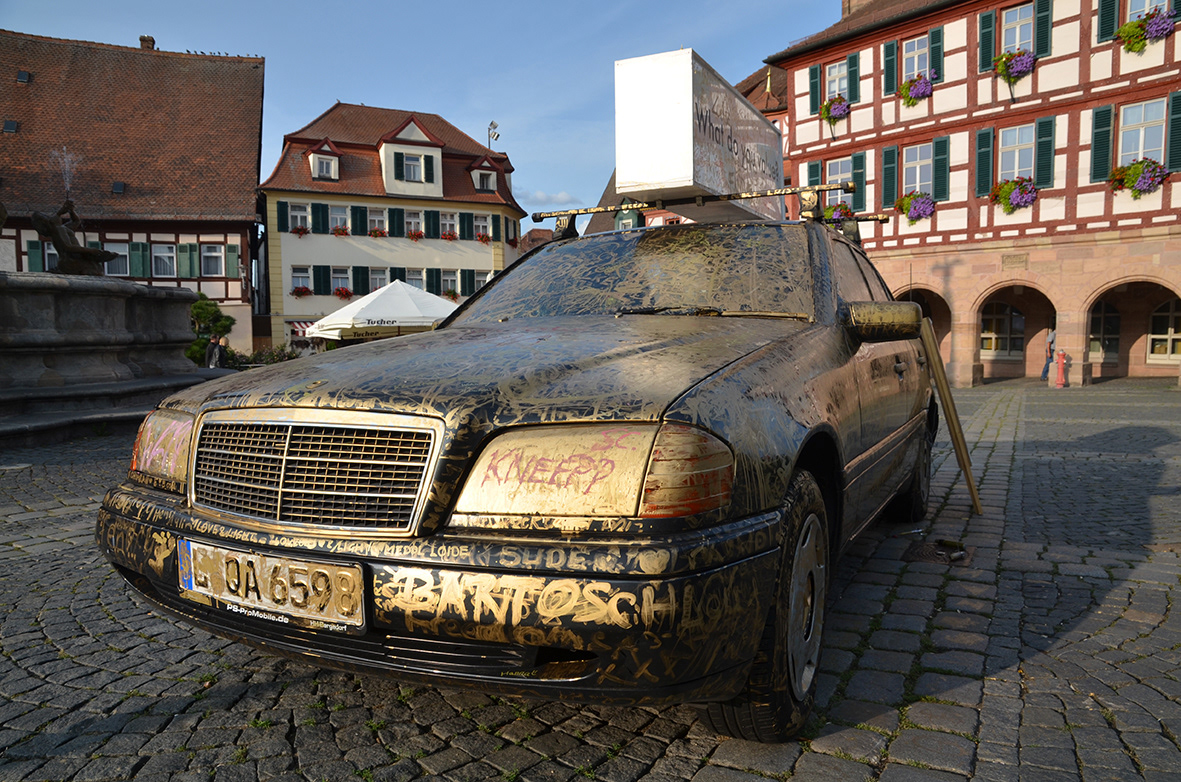 "Ein alter, aber fahrtüchtiger Mercedes Benz in Schwarz – heute nur noch einen Bruchteil seines ursprünglichen Kaufpreises wert – ist das Vehikel für die Frage "Was ist Dir wichtig? / What do you value?" Jeden Tag um 15 Uhr ertönt der titelgebende Janis Joplin-Song "Mercedes Benz" mit den Textzeilen "Oh Lord, won't you buy me a Mercedes Benz? … I wait for delivery each day until three…".
Das ehemalige Statussymbol und Prestigeobjekt korrespondiert in seinem zeitbedingten Wertverlust mit den persönlichen, materiell wertlosen Gegenständen, die der ehemalige Besitzer im Fahrzeug hinterlassen hat. Durch den Künstler erfahren die Dinge nun eine respektvolle Aufwertung im Sinne einer Erinnerungskultur.
Die Winkekatze als Glücksbringer hinter der Frontscheibe soll den Betrachter dazu aufrufen selbst zum Künstler zu werden und seine individuellen, immateriellen Wertvorstellungen mit goldenen Lackstiften auf das Fahrzeug zu schreiben, bis der Wagen schließlich in neuem Glanz erscheint. "Die partizipative und performative Installation bringt die Werte der modernen Gesellschaft an die Oberfläche" (Theiler). Am Ende wird die Frage nach dem neuen Wert des nunmehr künstlerisch vereinnahmten Mercedes ganz konkret gestellt: Er steht zum Verkauf."
"An old, but roadworthy black Mercedes Benz that is worth a fraction of its original purchase price today bears the question "What is important to you? / What do you value?" Every day at 3 p.m., the eponymous Janis Joplin song "Mercedes Benz" greets visitors with the lyrics "Oh Lord, won't you buy me a Mercedes Benz? ... I wait for delivery each day until three...".
The worthlessness of the former status symbol corresponds to the worthlessness of the objects that the former owner left in the vehicle. Their presentation in an artistic context alongside other carefully selected objects bestows them with a sense of respect and remembrance. 
A waving cat invites the visitors to become artists of themselves by writing their individual and immaterial values on the surface of the Mercedes with golden felt pens – until the black Mercedes finally appears in a new golden splendor. "The participatory and performative installation brings the values of modern society to the surface." (Theiler). In the end, only one question remains: What is the new value of the redesigned Mercedes? It is for sale."