Clubhouse Auwald, 2017
Cafeteria Design for the Siemens

Betriebskrankenkasse (SBK)
Leipzig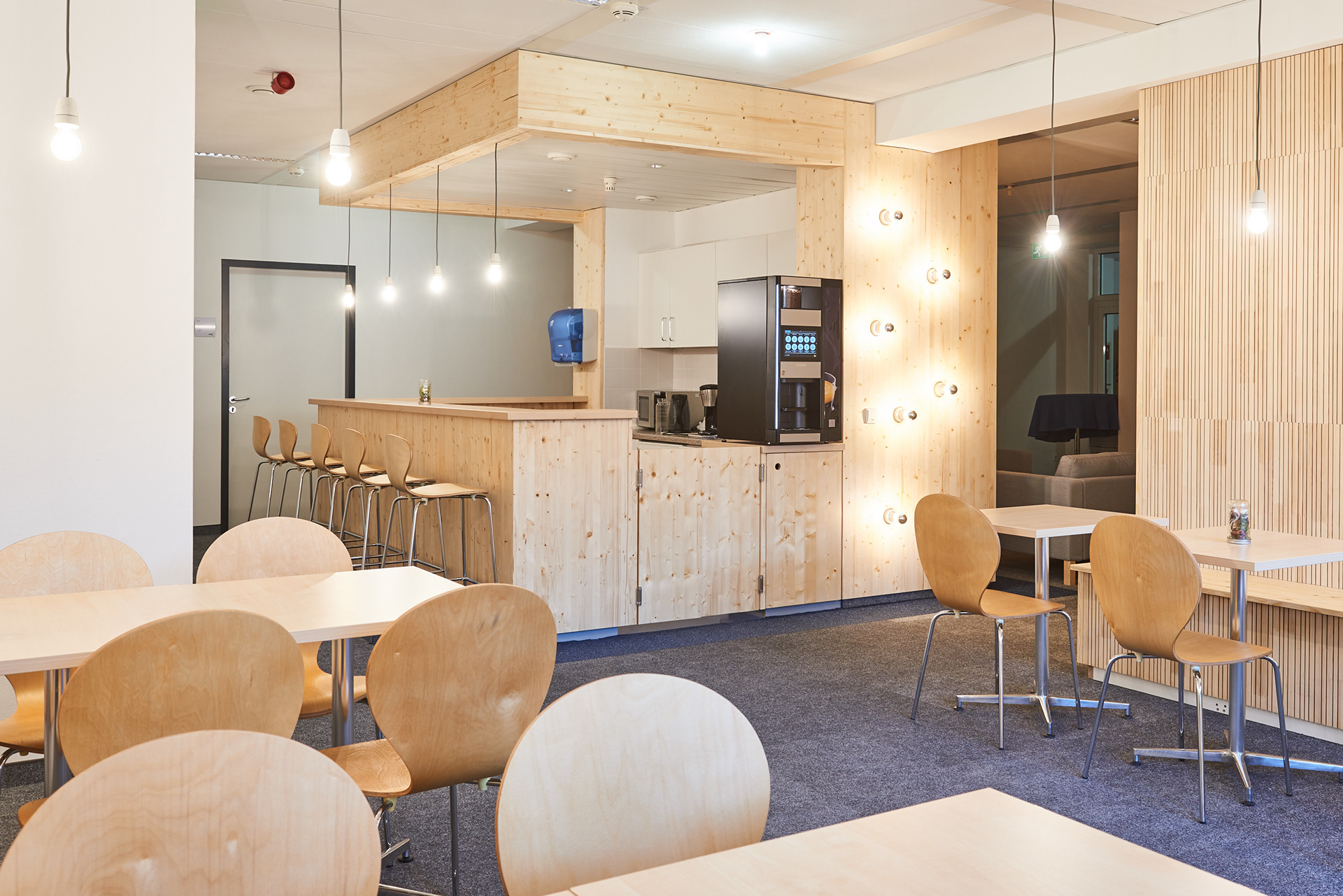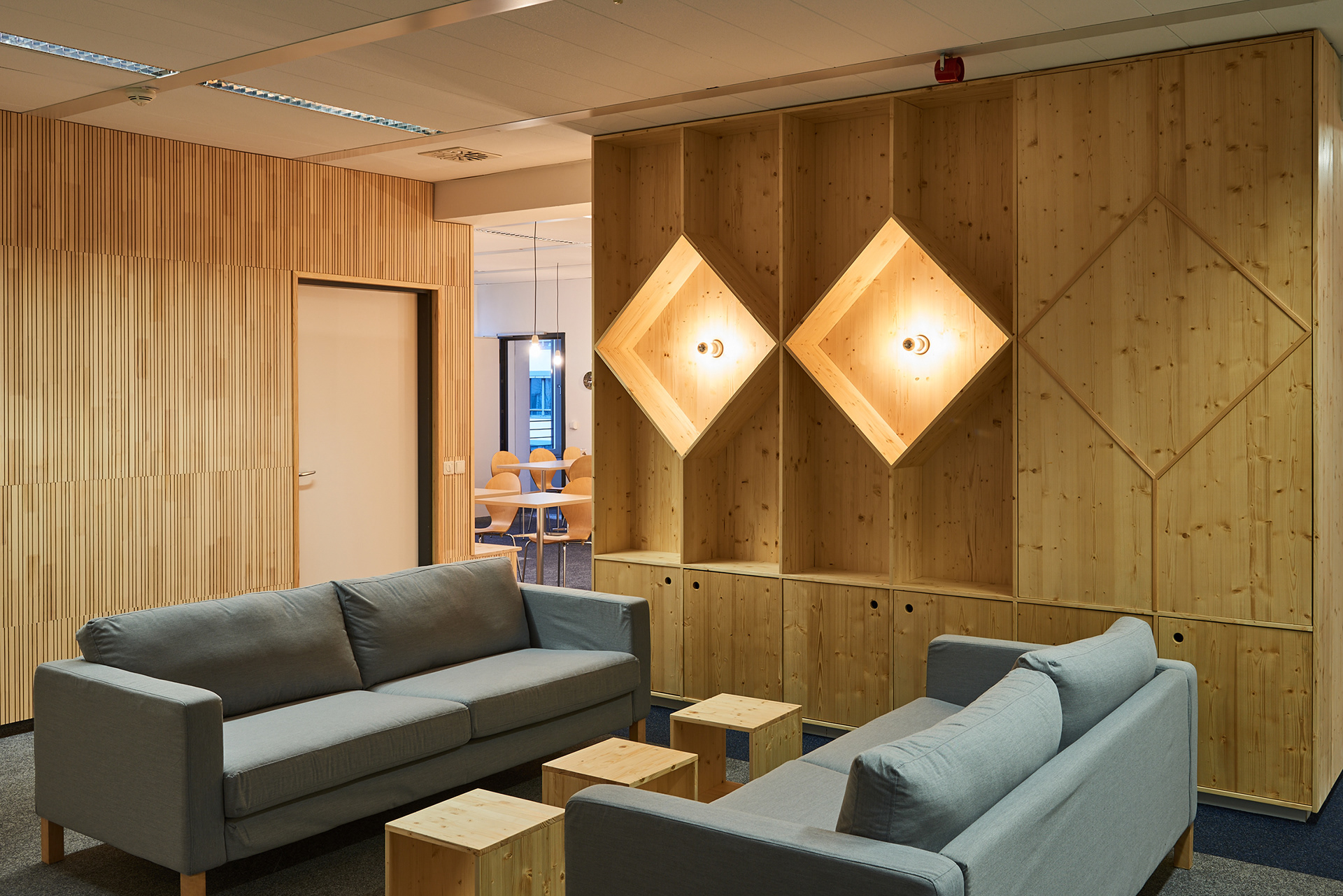 Die neue Cafeteria schafft Räume, die zur Zufriedenheit der Mitarbeiter beitragen. Gemeinsam mit den Mitarbeitern wurden Wünsche und Ideen für die neue Cafeteria entwickelt und in die Gestaltung miteinbezogen. Die Cafeteria orientiert sich an den Grundsätzen und Werten der Krankenkasse. Es fördert das Wohlbefinden der Mitarbeiter, indem es Bereiche mit unterschiedlichen Qualitäten für Interaktionen und Aktivitäten schafft.
Das Design basiert auf dem Bild eines Clubhauses in einem Leipziger Kleingarten, das für Gemeinschaft und Austausch steht. Der Kleingarten ist ein Resulat der in Leipzig im 19. Jahrhundert von Moritz Schreber gegründeten "Schreber-Bewegung".
Das Cafeteria-Design verwandelt die Küche in einen Barbereich und erhöht die Präsenz im Raum: Der eingestellte monolithische Holzwürfel stellt das Herzstück der Cafeteria dar. Zusätzlich zu seiner Funktion als Kaffeetheke kann es während der Firmenfeiern als Servierbar und Buffet verwendet werden. Die Cafeteria hat drei verschiedene Zonen, die unterschiedliche Funktionen und Qualitäten bieten: den Essbereich, die Bar und die Lounge. Der Essbereich wird von einer holzgetäfelten Wand dominiert, die in vertikaler Ausrichtung eine Abstraktion der dichten Bäume des Leipziger Auwaldes darstellt und dem Raum einen natürlichen, angenehmen Charakter verleiht. Die Verkleidung erstreckt sich vom Essbereich bis zur Lounge und schafft einen harmonischen Raumfluss. Zusätzlich sorgt die akustisch aktive Holzverkleidung durch Reduzierung der Nachhallzeit für eine angenehme Raumakustik. Der vorhandene Teppich wird durch einen blau-grauen Linoleumboden ersetzt. Eine neue Beleuchtung schafft unterschiedlich beleuchtete Zonen zum Essen, Arbeiten und Entspannen. Natürliche Materialien wie Holz und Linoleum sowie eine zurückhaltende Farbgebung sorgen für ein gutes Raumklima und eine hohe Aufenthaltsqualität. 
The new cafeteria creates spaces that contribute to the employees satisfaction. Together with the employees, wishes and ideas for the new cafeteria were developed and included in the design. The cafeteria is designed according to the principles ideals and values of the health insurance company. It promotes the well-being of employees by creating areas with different qualities for interactions and activities.
The design uses the image of a clubhouse in a Leipzig allotment that stands for community and exchange. Allotment gardens have been invented in Leipzig on the basis of the "Schreber movement"  founded by Moritz Schreber in the 19. century. The cafeteria design transforms the kitchen into a bar area and increases its presence in the room: The monolithic wooden box is the centerpiece of the cafeteria. In addition to its function as a coffee counter, it can be used as a serving bar and buffet during company functions. The cafeteria has three different zones offering different functions and qualities: the dining area, the bar and the lounge. The dining area is dominated by a wood-paneled wall, which in its vertical orientation represents an abstraction of the dense trees in the Leipziger forests and gives the space a natural, pleasant character. The paneling extends from the dining area to the lounge creating a harmonious flow of space. In addition, the acoustically active wood paneling ensures a pleasant room acoustics by reducing the reverberation time. The existing carpet is replaced by a gray linoleum flooring. A new lighting creates differently illuminated zones for eating, working and relaxing. Natural materials like wood and linoleum and a restrained color scheme ensure a good indoor climate and a high quality of stay.